It's been about a year since I learned to knit. Today is also the day I finished my first sweater!
I say "finished," but of course I still need to weave in the ends and block it. That will have to wait until I finish unpacking at my new apartment, though, so I'm calling this done.
I learned to knit a year ago at NYC Resistor. I was primarily inspired by these awesome scalemail gloves I'd seen online:
So I learned! And I knit a bunch of squares, and eventually I tried to make my gloves…
…and then I got distracted, because it turns out that I really love knitting, and now I'm a bit obsessed. I carry a project with me everywhere. I sometimes knit while walking down the sidewalk, on the subway, during meetings at work, at home before bed, at home before work, at Resistor…
Someone on Twitter asked why I knit, which was a confusing question. Because I enjoy it! It's meditative, rhythmic, viscerally satisfying. It doesn't involve looking at a computer screen (except when I'm spending all my time reading knitting blogs). It's social - I knit with friends all the time. I get warm squishy objects at the end with nice textures. TLDR; it's great.
Techniques
Some of the discrete skills / techniques I've learned or attempted:
increasing and decreasing
how to read a pattern
knitting in the round (on double-pointed needles, circulars, and with magic loop)
some basic lace stuff (eyelets, slip-stitch lace, YOs etc in general)
double-knitting (briefly - I'm not fluid at this yet)
colorwork (stranded, stripes)
continental & English
ambidextrous knitting (left- and right- handed, and back-and-forth)
using lifelines (omfg so important)
short rows
Projects
Projects I completed in the last year:
Two shawls
Two cowls
Four hats
One fingerless glove (YUP, I failed to finish a pair)
One sweater
Three scarves
Here's some photos: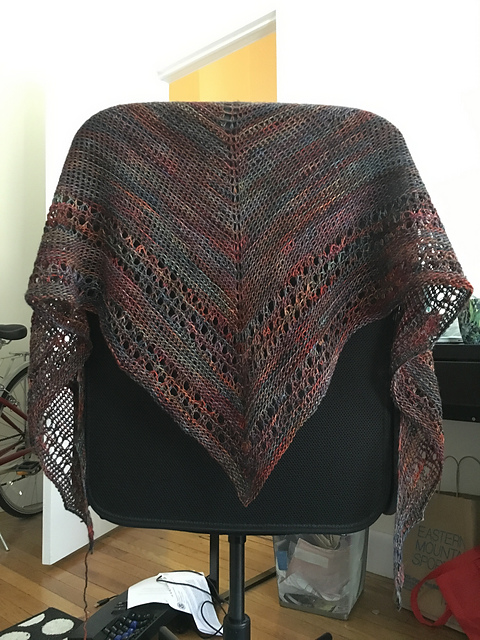 Things I like
I've learned a lot about what I like and what I dislike when knitting:
Dislikes: small-circumference circular knitting; silk yarn; anything finer than worsted-weight yarn (I love the fabric produced, but it's hell on my fingers); any project that takes longer than a month; following patterns to the letter; weaving in ends; the last 20% of scarf projects.
Likes: sweaters; colorwork; interesting construction; improvising; wool; cotton (though it's still a bit confusing to work with); cowls; hats; projects small enough to carry in a purse; worsted weight or thicker yarn.
I am so so excited to start working on my next sweater. First, though, I should probably go back and improve some of my techniques. Ugh. Someday, so help me god, I'll be able to do a less wobbly 1x1 ribbing. And there are some short row experiments I want to try…
PS: If you want to learn to knit, or hang out and knit with me, I help lead a knitting circle at NYC Resistor every other Monday. We have supplies if you need 'em - just bring yourself!
---